Lighting is an essential component of any office setting. It is necessary for creating a productive and comfortable work environment. However, not all types of lighting are created equal, and some lighting systems can pose hazards to employees. It is important to take a proactive approach to lighting safety in the workplace to protect your employees from these potential hazards. In this article, we will discuss some of the common lighting hazards in the office and provide practical tips to mitigate these risks.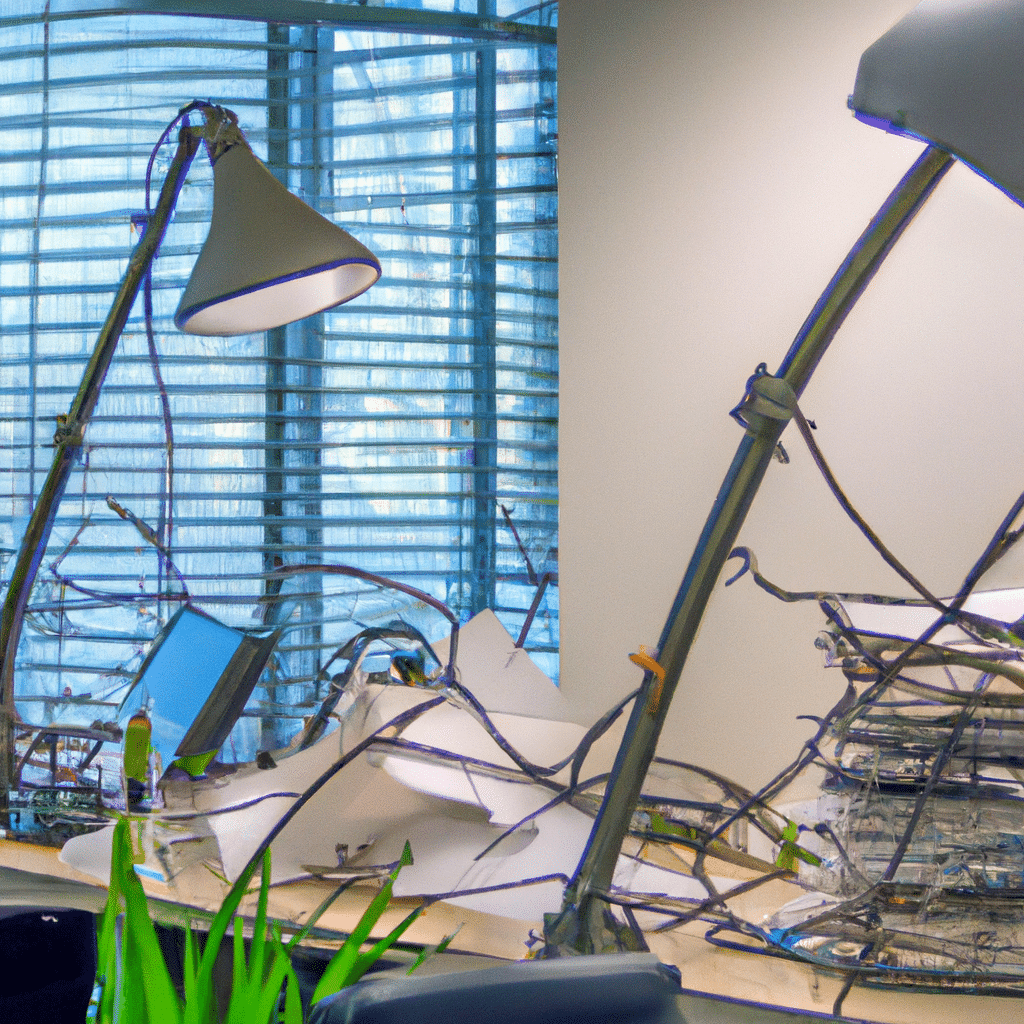 Hazard #1: Flickering Lights
Flickering lights are a common issue in many offices. They can be caused by a variety of factors, including faulty wiring, old ballasts, or outdated fluorescent bulbs. Flickering lights can cause eye strain, headaches, and dizziness, which can negatively impact employee productivity and well-being.
To address this issue, it is essential to replace faulty bulbs or ballasts promptly. If the problem persists, consider upgrading to LED lighting systems. LED lights are energy-efficient, long-lasting, and offer a flicker-free and uniform lighting experience. Additionally, consider providing task lighting to employees who require additional lighting to complete their work.
Hazard #2: Glare
Glare is a common issue in offices with large windows or open-concept designs. It occurs when light reflects off surfaces such as computer screens, windows, or glossy surfaces, causing discomfort and eyestrain. Glare can also cause headaches and migraines, which can negatively affect employee productivity and well-being.
To reduce glare, consider installing window shades or blinds to minimize the amount of natural light entering the workspace. Additionally, position computer monitors away from windows or direct light sources. Use anti-glare screens on computer monitors and install task lighting to reduce eye strain.
Hazard #3: Poor Lighting Design
Poor lighting design can cause a variety of hazards in the workplace. Insufficient lighting can cause accidents such as slips, trips, and falls, while overly bright lighting can cause discomfort and eyestrain. It is essential to assess your lighting design regularly to ensure that it meets the needs of your employees.
To improve lighting design, consider installing lighting controls such as dimmers or occupancy sensors. These systems can provide the right amount of light for specific tasks, reducing eyestrain and increasing productivity. Additionally, consider conducting a lighting survey to identify areas of your office that require additional lighting.
Hazard #4: UV Radiation
UV radiation is a potential hazard in offices with large windows or skylights. Prolonged exposure to UV radiation can cause skin damage, eye damage, and other health issues. It is essential to take proactive measures to protect your employees from UV radiation.
To mitigate this risk, consider installing window films or shades that block UV radiation. Additionally, encourage employees to wear sunscreen and protective eyewear when working near windows or skylights.
Hazard #5: Electrical Hazards
Electrical hazards are a potential risk in any office setting. Faulty wiring, damaged cords, and overloaded circuits can cause electrical fires, shocks, and other hazards. It is essential to take proactive measures to prevent electrical hazards in the workplace.
To reduce the risk of electrical hazards, consider conducting regular electrical system inspections. Ensure that all electrical cords and equipment are in good condition and replace any damaged or worn items promptly. Additionally, consider installing surge protectors to protect your electronic devices from power surges and electrical damage.
Conclusion
Lighting hazards in the office can negatively impact employee productivity and well-being. By taking proactive measures to address these hazards, you can create a safe and comfortable work environment for your employees. Regularly assess your lighting design, address flickering lights promptly, reduce glare, protect your employees from UV radiation, and prevent electrical hazards to ensure a safe and productive work environment for your employees.